Howdy y'all!
So Arizona asked me last night for more time to think about me visiting in June. Probably because I asked him about picking me up at an airport 2 hours away, what his school schedule would be (which he won't know until May), and to help pay for the hotel since I'm paying $500 to fly there instead of driving 14 hours.
That's it about last night. And now, for your enjoyment (or moaning) pleasure:
Theme Thursday!!!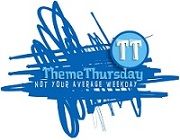 There is so much controversy in our society it is hard to pick a topic! So maybe I will be the odd one out and talk about why I don't like or get into it.
We have gay marriage, people going out with people that have beat them in the past (and been convicted of it), singers that we love to hate, divorce, the pope stuff, interracial relations, politics, etc, etc, etc.
We LOVE to have controversy going on. If we do not have something to bitch about, we feel empty. Do you really care that Justin Beiber ALMOST hit somebody? Do you care that Rihanna is dating Chris again? Do you care if 2 people that love each other get married no matter their sex or color or religion? If 2 people fall apart, why do we care so much that they get divorced (like J Lo and what's his name)? That doesn't affect you, only them! Do you care that the American president is doing what he is doing? Okay, well, I care about that but only because it affects me, my job and my money.
I try to keep my mouth shut about most things because I do NOT want to be involved in an argument, especially online. I have friends of all colors, religions, and have 2 BFF's, 1 a female and 1 a male. My nephew is gay and so is my cousin and quite a few friends (Luke for example). WHO CARES? I look at the PERSON, NOT what they "are". I don't go off on Facebook about Gay Marriage or Religious stuff like some people. I don't post stuff about actors or singers or anyone "famous". I just don't care enough about them! They do not affect me. Sure they make millions of dollars that I believe they should donate their 10% to the church they are comfortable with and give some to charities to share their wealth but that doesn't mean they will or I would get any so why would I care?
I DO read US Weekly but it is my guilty pleasure. You don't see me posting or blogging about what I read though. I read this awesome Canadian blog about the "stars" as well at Whorrified! She makes things they do funny and it's not the only thing she talks about so I enjoy reading her. I also read Huffington Post and know what's going on in the world but that doesn't mean I am going to try and make some point to everyone else about what I read! I also read Mad Magazine…they make fun of everybody. That's what I prefer..sarcastic humor and just plain having fun. Not at somebody's expense but just fun and an easy laughable reading pleasure. If you get offended by me or something I blog, I am NOT sorry because I am not trying to do that to anyone, I'm just me. If you don't like it, don't read it! Sound fair enough?
So my stance on controversy is NO stance. It's easier for me in the long run. I keep my nose out of your business and just blog and be me. You will not see me posting about actors, singers, ball players, or religious people. They do not affect me and I do not affect them. I talk about ME and MY life and maybe if more of us would worry about our own lives, the world would be a better place but that's just MY own opinion. HUGS!